2017 Asia-Pacific 3MT Competition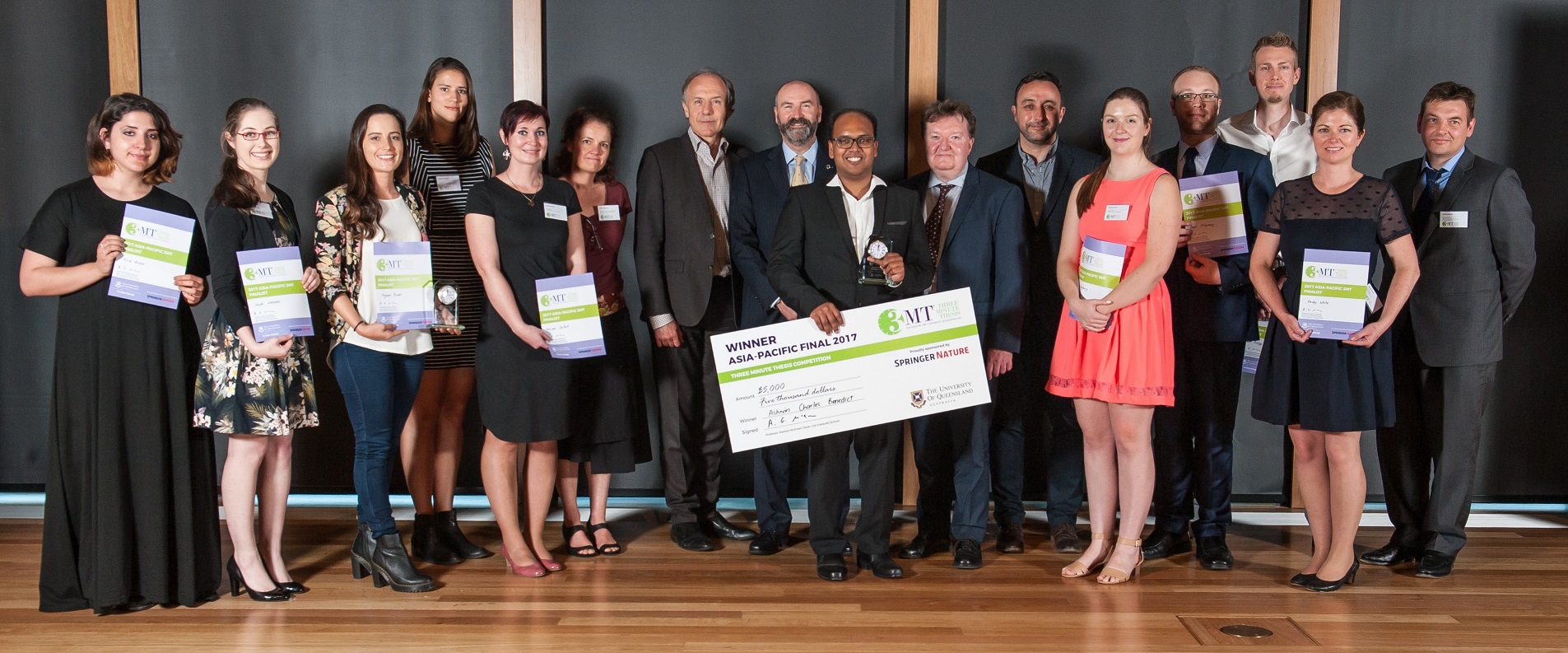 The 2017 Asia-Pacific 3MT Finals were held on the 29 September at the University of Queensland, St Lucia Campus.  The Semi-Finals, held on the morning of the event, featured competitors from 55 Universities from across Australia, New Zealand and North and South-East Asia.  The top 10 competitors from the Semi-Finals then progressed to compete in the Finals held in the afternoon.
Congratulations to the 2017 Finalists:
Hans Philipp Sueltrop
College of Engineering
Department of Electrical and Computer Engineering
University of Canterbury
It's not coffee science
Paul McGorrery
School of Law
Faculty of Business and Law
Deakin University
Prosecuting Psychological harms
Jemma Seyfang
School of Animal and Veterinary Sciences
Faculty of Sciences
The University of Adelaide
Selecting the right pig for the job
Miriam Seifert
International Business and Marketing Department
Business School
The University of Auckland
Anti-consumption as a Driver to Achieve a Competitive Advantage in Firms – Case Studies from the Slow Fashion Movement
Becky White
School of Public Health
Curtin University
Milk Man: A Breastfeeding App for Dads
Heidi Walkden
School of Medical Science, Faculty of Health
Menzies Health Institute Queensland and Griffith Institute for Drug Discovery
Griffith University
Does breathing kill?
Alice Russo
School of Biotechnology and Biomolecular Sciences
Faculty of Science
The University of New South Wales
A Novel Solution to a Warty Problem: Ancient Viruses Can Help Us Find a Cane Toad Killer
Jennifer Soundy
School of Biological Sciences
Faculty of Science
Victoria University of Wellington
Aptabiotics: fighting resistant bacteria with nanosilver
Watch the presentations from the 2017 Asia-Pacific 3MT Semi-Finals here.
The Asia-Pacific 3MT Competition is proudly sponsored by